Karayim Kenasa is the architectural masterpiece erected by the great architect Horodets'kyy. It was built in 1900. The funding was done by famous tobacco magnate Solomon Kohen who was the head of Karayim community. His wife founded Karayim school for girls. Nowadays House of Actor is situated in the building. The building is a bit damaged by the time but, nevertheless, one can fully observe its high artistic and architectural value, the combination of oriental Moresque with its own unique style which is easily noticed and recognized. Vladyslav Horodets'kyy had a exquisite taste and ability to combine natural landscape, functional purpose of the building with its artistic style.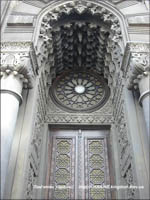 The building of the former kenasa is not very big. One is struck with its monumental portal of the facade, walls are ornamented with the imitations of the stone carving and arabesque modeling. Kenasa had the dome which one could see only on the pictures or original sketches of Horodets'kyy. Together with its cupola kenasa lost beautiful Arab-lettered ornament and small railed door.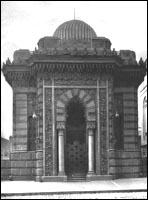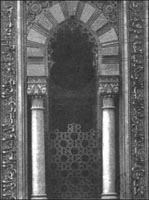 Photo made in 1910 by Hubchevs'kyy and Hudshon.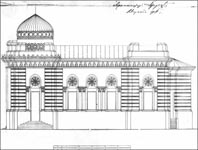 There are plans to restore the kenasa and its cupola in the nearest future. As Karayim community exists no more in Kyiv, the building will probably remain its function as the House of Actor. Short chronology of the building in the Soviet times: in 1926 a political educational institution was placed there, then – puppet show, starting from 1952 it functioned as cinema "Zorya", in 1968 it was reconstructed and from 1981 it started to serve as House of Actor.

One can find Karayim kenasa at the following address – Yaroslaviv Val, 7.